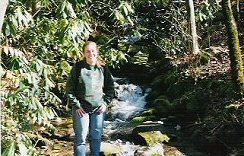 I am a Licensed Mental Health Counselor in the state of Florida. I am also a registered yoga teacher (200 hour level, registered by the national Yoga Alliance), am certified in clinical hypnosis with rapid trauma resolution, and am a Florida board-approved clinical supervisor for Registered Mental Health Counselor Interns.
I spent many years at the University of Florida, obtaining a degree in psychology and then advanced degrees in mental health counseling, as well as working while I waited for my husband to finish veterinary school (which has made me a serious animal-lover, if I wasn't already).
I have had very varied experience during my ten years in practice, from outpatient clinics to an inpatient hospital, in an alternative school and in several colleges, including the University of Central Florida and Rollins College. I have lived in the Orlando area since 2003 with my husband and now my little girl (as well as several pets). I am active in the community, hobbies, with family, and the local mental health counselors' association. I know firsthand the stresses of balancing a career, a committed relationship, a child, and personal interests. I believe that I've found a healthy balance and a good life, and am happy to bring all of my experiences into my work with you.
I was led to study yoga in a more in-depth manner when I began to realize how helpful it had been in my own life – physically, emotionally, and spiritually. There was a disconnect for me between what I was learning from my own yoga practice, and what I felt I was not able to give to my clients.  I realized that I wanted to share the healing power of yoga with others, not only by teaching it but also through the counseling process. Thus I completed a 200 hour certification in Hatha yoga, and some additional training in yoga therapy as well.  I am passionate about helping you to heal both your mind and your body, and since the two are interconnected, this tends to facilitate the healing process. This approach is most beneficial for healing from anxiety, past trauma, and addiction, but is also great for depression, issues with food, relationships, chronic pain, and overall health and wellness.
Having worked at UCF and Rollins College, as well as several middle schools and high schools, I have extensive experience working with adolescents and college students, and believe that I possess a unique ability to connect with them and foster positive change and growth. I will make every effort to provide affordable rates to college students and other individuals in need.